CC No.1 Corruptive Climate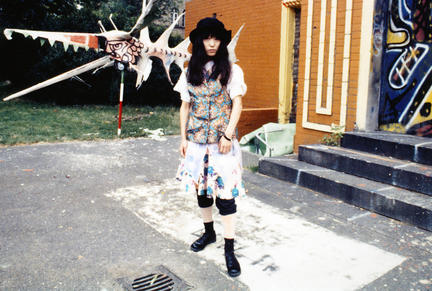 Concerts start on time! For live audio stream, please scroll down!
Walking the Monkey
Billy Roisz (A) - video,audio
Billy Roisz is one of the best-known figures on the austrian experimental scene.
Active for over decade as a video- and sound artist she has collaborated with dieb13, Angélica Castelló, Burkhard Stangl, Silvia Fässler, Martin Brandlmayr, Toshimaru Nakamura, Mario de Vega, eRikm and Ilpo Väisänen. Her ability to translate experimental music into visual imagery is particularly noteworthy, revealing tactics borrowed from minimal and conceptual art.
"Walking The Monkey" is her solo debut album in which she gathered an arsenal of instruments and unstruments such as bass, audible video devices, kluppe, jealous heart, kakophonator, transducer radio and pick ups to create an intense, noisy yet varied musical journey.

Forever and Ever
Haco (Japan) – voice, electronics
Visuals by Mariko Tajiri and Haco
Haco is a composer, vocalist, electroacoustic performer, sound artist, and a founding member of After Dinner (1981-1991) and Hoahio. She has created numerous recordings both as a producer and engineer based in Kobe. In her live performances, she uses voice and self-programmed electronics as an organic method, accompanied by video images shot and edited with Mariko Tajiri. With a unique sensibility, Haco has developed her own genre of music based on the principles of post-punk, electroacoustics, the avant-garde, improvisation, post-rock, environmental sound, and technology. Her most recent vocal-based albums, Riska (2007) and Forever and Ever (2011) were released domestically, and have been highly acclaimed internationally.
Where are the wild ones
Kaffe Matthews (Great Britain) – computer, electronics
An 8 channel performance made from recordings taken in the River Tyne, that uses it's route as a score, and in which Matthews develops Atlantic salmon language to travel its changing topography. All music made from recordings taken in the River Tyne UK, 2010.
"Salty sweet pink salmon flesh is sold all over the place these days. Down London, we regularly scoff it with glee. Up in Northumberland, England, I discovered the truth behind the wild version of these incredible creatures that swim all the way from Greenland and back to their birth river to spawn. It seems once they've decided to come, they find their way from the taste of its water. Then they swim all the way up, against its fierce current, the concrete weirs and waterfalls and the still, shallow patches all the way to its source. And they might take eight months to do this and they don't eat at all."
Originally commissioned by the AV festival, UK, 2010 and Laura Harrington, with support from Environmental Agency North East and Arts Council England, now under development to make a sonic story in collaboration with the Environment Agency, local anglers, programmers and school children. Mapped over a stunning visual score made from the route and geology of the river Tyne, the opera's music will be made from the sonification of salmon data gathered from their migrating journeys up and down the river Tyne.
Made with support from the Arts Council England, the Northumberland National Park and the Environment Agency North East. To premiére on the banks of the river Tyne, July 2013.
DJ Nicholas Desamory
Sissi FM live from Sophiensæle
7 - 12pm live stream on reboot.fm
8 - 12pm on UKW 88.4 MHz and 90.7 Mhz in Potsdam
Live interviews with the participating artists on music, methods, and motifs; on dangerous stages and daring costumes, on composition and improvisation; on the musicality of collectives and on collective structures in music; on band playing and solo works; on the longevity of self-organized groups; on macho fights and Hühnerkämpfe; on collective love, pains, and asses and on the monarchy of sounds. Live streams of all concerts and perfomances, directly to your kitchen: music, music, music. After and inbetween the concerts: breathtaking impressions, voices of the audiences, insights, outlooks, and summaries
Listen here
This stream defaults to the reboot fm radio stream if there is no live broadcast. more info here