Collette+Wirewalker / NEW TRAINERS / Caddy+Mangan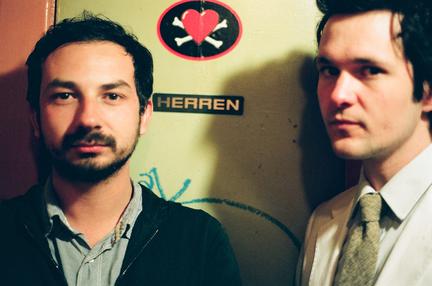 Ned Collette + Wirewalker
Ned Collette - voice, nylon string guitar, synth
Joe Talia - drums, percussion, electronics, bass, samples
Ned Collette moved to Berlin from his native Melbourne over two years ago. A well known and respected singer-songwriter in his own country and in underground circles worldwide, he has toured Europe previously with the likes of Joanna Newsom, Akron/Family, Bill Callahan and Nina Nastasia. His early musical output was based mostly in experimental music, before he gravitated towards more traditional song structures, albeit utilising loops, modern orchestration techniques and musique concrete.
His new album "2" (his fourth album, second with Wirewalker, but his first outside of Australia) will be released in August on Fire Records. It is essentially a duo collaboration with Wirewalker drummer Joe Talia, known for his solo experimental work and duos with Oren Ambarchi, James Rushford and Thembi Soddell. Ned Collette & Wirewalker's "2" is a mix of experimental pop songwriting, dark folky soundscapes and Talia's work in musique concrete. Their duo shows are performed with voice, nylon string guitar, drums, samples and tape manipulation. While comparisons have been made to everything from Leonard Cohen to Ghostface Killah, Collette remains tricky to define but instantly identifiable.
NEW TRAINERS
Steve Heather - drums
Thomas Meadowcroft - synth
some say the they're inventing a whole new music genre for the twenty-first century, a genre for the cool, the poor, the literate, for all those not predisposed to exercise. They call it TECHNO-PROG-FITNESS. Others don't care. They just wanna lose weight and look good. Whatever you think, all agree the NEW TRAINERS are the most exciting thing happening to fat and sound around.
Caddy / Mangan
Anthea Caddy - cello
Felicity Mangan - found sounds