Düren / Owl & Mack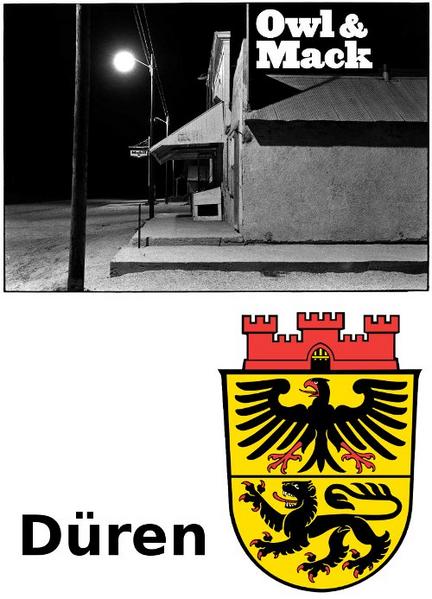 Achtung, das Konzert beginnt um 15:00 und ist Teil unserer neuen Reihe PLAY DATE, die Eltern und ihren Kindern gute Musik präsentiert... Wir hoffen also auf einen lebhaften Nachmittag.
Düren
Danny Schröteler - Vocals, Drums
Dirk Berger - Vocals, Guitar
Düren ist mit etwa 93.000 Einwohnern eine große Mittelstadt am Nordrand der Eifel zwischen Aachen und Köln in Nordrhein-Westfalen. Die von der Rur durchflossene Stadt nennt sich Das Tor zur Nordeifel. Sie ist geprägt von mehr als 1300 Jahren wechselvoller Geschichte und ihrer heutigen modernen Industrie.
Aus Düren kommen diverse Künstler und Musiker. Wie z.B. Dirk Berger und Daniel Schröteler, die heute für Euch ihre wunderbare Musik präsentieren.
Can U Dig It?
Owl & Mack
Boris Hauf - Organ, Vocals
Rico Repotente - Guitar, Vocals
Derek Shirley - Bass
Steve Heather - Drums

Berlin-based band Owl & Mack was formed by Boris Hauf in early 2009. The group's sound has been described as "a convergence of alt-country rock (in the likes of Jason Molina, Lucinda Williams, the Handsome Family…), dark vamp-based jazz (Miles Davis' 1969 In a Silent Way…) with an occasional visit paid by the Chicago Blues of the Chess Records era…".
By evoking the image of an Owl - a nocturnal bird of prey known for it's sense of depth perception necessary for low-light hunting - and the great truck manufacturing company Mack - an over 100 year old truck maker known for making trucks with incredible durability - the Name Owl & Mack characterizes the band's music.
http://hauf.klingt.org/Owl&Mack/