Gil Delindro
Submitted by
Melodie
on Wed, 2016-02-10 13:23.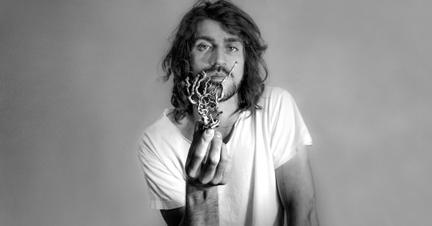 Gil Delindro is a multidisciplinary artist focused on the the conflicting relation between ego, nature and technology. Through an extensive cross-border practice, tracing filmmaking, sound, installation, performance and theater, his work offers a detailed bridge between mediums and research perspectives, often facing concepts such as animism, time, memory, isolation, contamination and post digital conflicts.
Member of collectives such as Srosh ensemble, Sonóscopia (Porto), Blind Signal (Berlin) – his work has been presented in a extensive amplitude of locations, from several isolated rural and deserted areas to New York, Toronto, São Paulo and Europe extensively.
A regular performer in the echtzeitmusik Berlin, his work is mostly based upon field research in diverse isolated landscapes – in 2015, he was one of the chosen artists taking part in the residency "The weight of Mountains". He spent 3 months in the desert of Sahara, going further in a carefully crafted symbiosis between landscape and sound processing.
Delindro works mostly with raw elements and analog self built processes, creating a very physical, direct and strong sound work that embraces both a concrete and unique imaginary land.