Out of Verlorenort Tag 4 Pathfinder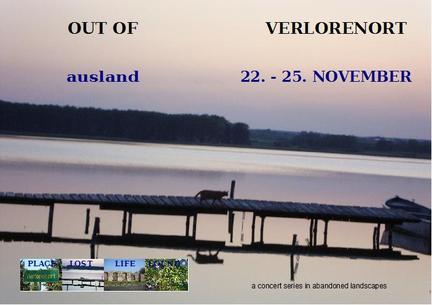 Out Of Verlorenort Tag 4 / Pathfinder
Abschlussveranstaltung von Out Of Verlorenort
Mit einer letzten Präsentation der Audio-Visuellen Begleit-Installation zu den Konzerten, von Ralf Hofmann und Andrea Ermke.
Das ist die letzte Chance, noch einmal den Audiovisuellen Rahmen von Out Of Verlorenort zu erleben!
Anschliessend 'Pathfinder', ein Abschluss-Konzert mit den teilnehmenden MusikerInnen von Out Of Verlorenort, die versuchen werden gemeinsam musikalisch einen Weg aus dem 'Verlorenort' zu finden, so dass es am Ende der Konzert-Reihe tatsächlich 'Wilkommen zurück' im ausland heissen kann!
Überraschungen sind hierbei garantiert, und die spannende Frage bleibt bis zum Schließen der Türen, ob tatsächlich ein kollektiver musikalischer und performativer Weg 'Out Of Verlorenort' gefunden werden kann.
Eintritt 3 Euro

Out of Verlorenort day 4 Pathfinder
Final Day of the series Out Of Verlorenort:
Final presentation of the Audio-Visuals by Ralf Hofmann and Andrea Ermke
and a surprise farewell show with the participating musicians of the series, collectively trying to find a path Out of the Verlorenort.
3 €
Über Out Of Verlorenort:
Vier Konzerte verortet im Nirgendwo im November 2012
Vier Konzerte widmen sich Fragen des 'Verlorenseins'. Sich gesellschaftlich wie persönlich 'verloren' zu fühlen, scheint in Zeiten der unaufhörlich vermeldeten 'Krise' immer mehr Menschen zu treffen. Welche Rolle kann Musik bei der Aufarbeitung und Bewältigung solcher 'Verlorenheiten' spielen, bzw. wie spiegeln sich solche Prozesse in der experimentellen aber auch in der populären Musik? Das Programm der von der Senatskanzlei für kulturelle Angelegenheiten geförderten Konzertreihe greift diese Fragen in unterschiedlicher Weise auf, und macht sich auf die Suche nach dem Weg 'Out Of Verlorenort'.
gefördert durch die
Senatskanzlei für kulturelle Angelegenheiten