Songs We Taught Your Mother Salon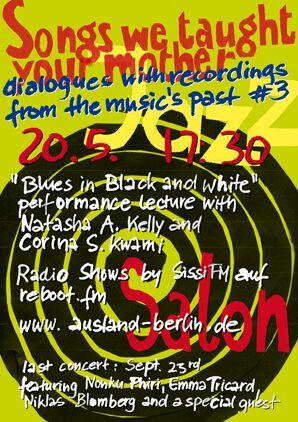 After 2 nights of concerts, today there is time to hang out, think and talk ... and listen to a:
Performance Lecture with Natasha A. Kelly and Corina S. Kwami
"Blues in Black and White"
Speaking to the experiences of Afro-German academic, activist and poetess May Ayim (1960 - 1996) who initiated the Black German Movement in the early 1980s, the performance lecture
by Natasha A. Kelly and Corina S. Kwami
named after May's reknown poem "Blues in Black and White" addresses the experiences of Black women in Germany before, during and after the fall of the Berlin Wall. Narrating Black German (her-)stories in song and text, the unthought-of commuinty becomes part of a global Blues family, which roots lead back to gospels and spirituals sung by The Fisk Jubilee Singers and Mahalia Jackson in Berlin as early as German colonialism.
The silence between the pieces as well as a conversation with the artists after the show allow for reflection on the local, its connections with the global and back again.
The salon will start with the performance!