Susanna Gartmayer
Submitted by
Mathias
on Sat, 2016-03-12 17:26.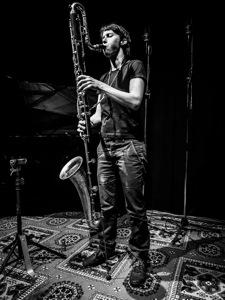 Susanna Gartmayer
*1975, in Vienna
composer/improviser/performer - bass clarinet/contra alto clarinet/alto saxophone
She works in the fields of "multi-ideomatic" improvisation, experimental rock, contemporary music
and multi-media sound research.
Susanna Gartmayer studied at the Academy of Fine Arts, Vienna and the Glasgow School of Art
(master ́s degree for painting and printmaking in 2000) and did a Self Study for saxophone, bass
clarinet, composition and harmonics.
Susanna Gartmayer is part of many ensembles for organized and improvised music.
(broken.heart.collector, möström, The Vegetable Orchestra, ...)
Susanna Gartmayer, geboren 1975 in Wien, arbeitet als Bassklarinettistin und Komponistin in
den Bereichen Experimentelle Rockmusik, Multiidiomatische Improvisation, Zeitgenössische
Musik und Multimedia Soundperformance. Ihrer musikalischen Laufbahn voran gingen ein Studium der Malerei und Druckgraphik an der Akademie der Bildenden Künste Wien, sowie ein Selbststudium in Saxophon, Bassklarinette und Komposition. Sie ist Mitglied zahlreicher Ensembles für improvisierte und organisierte Musik. (zb: broken.heart.collector, The Vegetable Orchestra, möström und chaosometer....) Zahlreiche Live-Auftritte, unter anderem bei/in:
Konfrontationen Nickelsdorf, Museum of Modern Art Indianapolis, Unlimited Wels, Avant Art Festival Wroclav, Kaleidophon Ulrichsberg, Huddersfield Festival, Hongkong City Hall, artacts St Johann ... Ihr besonderes Interesse gilt den Klangmöglichkeiten der tiefen Klarinetten sowie der Theorie und Praxis gemeinschaftlicher Arbeitsprozesse in Bands und Kollektiven.