TRIO AUS / CACTUS TRUCK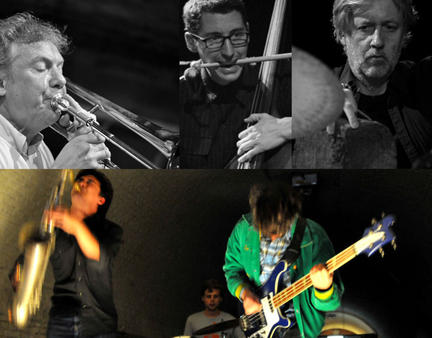 FIRE BRANDS a night of free jazz and fire music.
with
TRIO AUS
Johannes Bauer, trombone
Clayton Thomas, double bass
Tony Buck, drums
CACTUS TRUCK (NL)
John Dikeman, saxophones.
Jasper Stadhouders, guitar and bass.
Onno Govaert, drums.
TRIO AUS
A trio of devastating energy, flexibility and surprise.
The rhythm section of Australian expatriates explore the complete possibility of melodic, textural, energetic and elliptical combinations, creating a network of interactions for Berlin's master-blaster to punctuate and provoke at will.
Johannes Bauer is a veteran of the East German free jazz community, a long-time collaborator in various ensembles of Peter Brotzmann, Barry Guy and Alexander Von Schlippenbach - and the loudest trombonist alive.
Tony Buck is a founding member of Australia's transcendent piano trio The Necks, and one of the most technically gifted and structurally poignant improvisers alive.
Clayton Thomas plays the double bass like a kinetic sound sculpture, and is prone to over-excitement.
CACTUS TRUCK creates startlingly intense music, not merely in terms of volume or velocity but through complete physical/psychological surrender. One can find hints of delta blues, early free jazz, Japanese noise, and no wave in the music. Cactus Truck is based in Amsterdam and they've collaborated frequently with members of The Ex, including Terrie Ex, Andy Moor, Arnold de Boer (ZEA) and Colin McLean, as well as Ab Baars, Han Bennink, Dave Rempis, Jeb Bishop, Peter Jacquemyn, Teun Verbruggen, Gerri Jaeger (Knalpot) and Jon Rune Strøm. Their first official album entitled Brand New For China! was released in March 2012 on Public Eyesore Records (www.publiceyesore.com).