The Wildes - a Victorian salon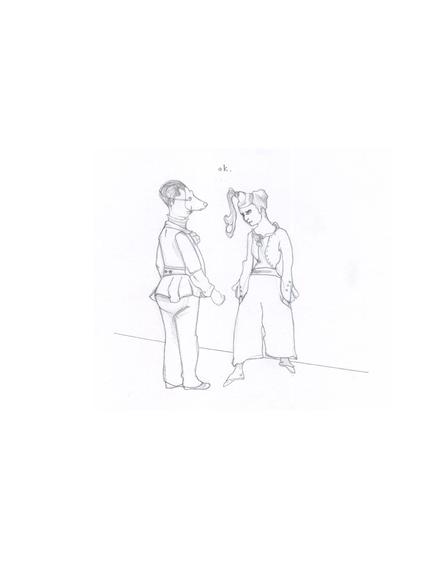 The Wildes
Ida & Henry Wilde

The Wildes invite you into their Victorian salon. As our guests you will partake in an exhibition and a book, performed texts and animated images, light refreshments and even lighter entertainment, many hats and scarves, as well as the history of the unconsumed marriage of Ida and Henry Wilde. The two of us would like to share some of our private lives, to host this salon which lends a new visibility to our everyday performance.
Since several years, Ida Wilde has been drawing the real life of Mr. and Mrs. Wilde in Victorian-style illustrations which will be presented at the salon. New illustrations are shown as an exhibition, narrated and sung by Henry Wilde in a performance and lecture-storytelling for the guests.
The hosts mingle with the audience, there is tea and cake, the mood and costumes are ceremonial, the conversation courtly, the program challenging ones notions of identity, gender, marriage, and community .

Please dare to come dressed in your finery!
We look forward to welcoming you to our salon.
Ida & Henry Wilde
Performance: Henry Wilde
Text und Ausstellung / Text and Exhibition: Ida Wilde
in Zusammenarbeit mit / In collaboration with:
Gili Ben-Zvi, Carola Caggiano, Barbara Greiner, Mirjam Junker, Conrad Noack, Itamar Lerner,
Gisa Schraml, Yael Stein, Minze Tummescheit, Alexandra Wellensiek, William Wheeler
Danke an / Thank you to:
Guillaume Cailleau, Angela Anderson, Noam Gorbat, Arne Hector, Sukandar Kartadinata,
Asi Föcker and ausland
Text and Exhibition
Mit der Unterstützung von / Supported by: Berliner Senatskanzlei für kulturelle Angelegenheiten
Produziert von / Produced by: make up productions
www.make-up-productions.net