Zapparoli/Hofmann/Lorenz + Anaïs Tuerlinckx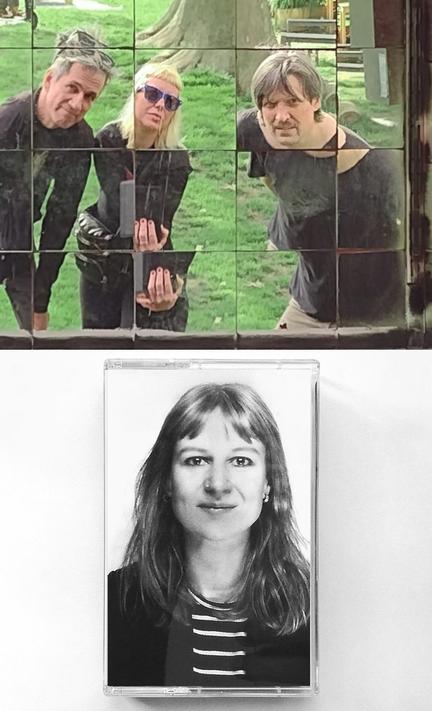 Doors 20.30 Uhr | Concerts 21 Uhr | Tickets (AK | Box Office) € 10,--
Anaïs Tuerlinckx – inside piano, objects anaistuerlinckx.com
Zapparoli/Hofmann/Lorenz
Marta Zapparoli – cassette decks, tape machines, antennas, radioreceivers, sdr, detectors
Sebastian Hofmann – percussion, electronics
Martin Lorenz – percussion, electronics
PHONOMENIARITMO II @youtube youtu.be/lp0BwmG1S9I
+++ scroll down for english +++
Die aus Brüssel stammende Pianistin Anaïs Tuerlinckx zog 2008 nach Berlin und ist seitdem Teil der lebendigen und vielseitigen berlinischen Musikszene, die sich der Improvisation widmet. In Ihrer Arbeit erforscht Anaïs Tuerlinckx das Innenklavier. Sie neigt zu einer eher körperlichen und ausladenden Spielweise, ihre Auftritte zeichnen sich durch Noise und harsche Sounds aus, suchen aber auch die eher elegisch-luftigen und weiten Räume. Mit ihrem Klavieraktivismus engagiert sie sich gerne auch außerhalb des Konzertsaals im öffentlichen Raum. Als Musikpädagogin unterrichtet Anaïs Tuerlinckx Improvisation an einer Musikschule.
Die Musik des Trios Zapparoli/Hofmann/Lorenz bewegt sich zwischen Noise, experimenteller Elektronik und zeitgenössischer Komposition. Marta Zapparoli arbeitet mit Kassettendecks, Reel-to-Reel Tonbandgeräten, Antennen und Funkempfängern. Ihre flächigen Klangtexturen ergänzen sich mit den rhythmischen Strukturen des Schlagzeugduos Sebastian Hofmann und Martin Lorenz zu einer Symbiose, die sowohl orchestral als auch kammermusikalisch ist.
In ihrem neuen Projekt THE CORTEX OF INHARMONIC RELATIONSHIPS präsentiert das Trio eine Videoarbeit, die sowohl für das Publikum sichtbar ist als auch den Musiker*innen als Partitur dient. Mit einem analogen Videosynthesizer wird die Bildebene direkt aus dem Audiomaterial des Trios generiert. Die unterschiedlichen Signale der Instrumente wirken sich auf verschiedene Aspekte des Videobildes aus. Während die hochfrequenten Radiosignale direkt als Videosignale interpretiert und ins Bild übersetzt werden können, modulieren die instrumentalen Signale genuin synthetisierte Bildfragmente. Gleich wie in der Hörebene sind Rückkopplungsprozesse und Filterung ein Katalisator der Bildgenerierung. Umgekehrt werden die Videosignale als Audiomaterial verwendet und weiterverarbeitet.
Das Konzert ist Teil des Monats der zeitgenössischen Musik Berlin.
+++ english +++
Originally from Brussels, pianist Anaïs Tuerlinckx moved to Berlin in 2008 and has since become part of the vibrant and diverse Berlin music scene dedicated to improvisation. In her work, Anaïs Tuerlinckx explores the inside piano. She tends to play in a more physical and expansive way, her performances are characterized by noise and harsh sounds, but also seek the more elegiac, breezy, and spacious sounds. With her piano activism, she also likes to engage in public space outside of the concert hall. As a music educator, Anaïs Tuerlinckx teaches improvisation at a music school.
The music of the trio Zapparoli/Hofmann/Lorenz moves between noise, experimental electronics, and contemporary composition. Marta Zapparoli works with cassette decks, reel-to-reel tape recorders, antennas, and radio receivers. Her expansive sound textures complement the rhythmic structures of the percussion duo Sebastian Hofmann and Martin Lorenz, creating a symbiosis that is both orchestral and chamber-like.
In their new project, THE CORTEX OF INHARMONIC RELATIONSHIPS, the trio presents a video work that is both visible to the audience and serves as a score for the musicians. Using an analog video synthesizer, visual material is generated from the audio material of the trio. The distinct signals from their instruments affect different aspects of the video image. While the high-frequency radio signals can be directly interpreted as video signals and translated into the image, the instrumental signals modulate genuinely synthesized visual fragments. Similar to the auditory realm, feedback processes and filtering act as catalysts for image generation. Conversely, the video signals are used as audio material and further processed.
The concert takes place as part of the Month of Contemporary Music Berlin (Monat der zeitgenössischen Musik).