Audrey Chen
Submitted by
Mathias
on Mon, 2016-08-01 17:52.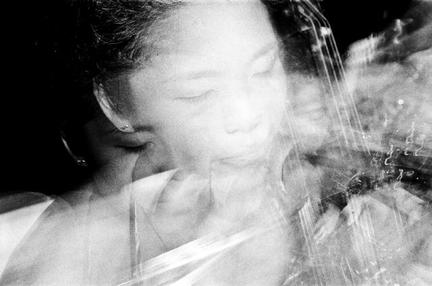 AUDREY CHEN is a Chinese-American musician who was born into a family of material scientists, doctors and engineers, outside of Chicago in 1976. Parting ways with the family convention, she turned to the cello at age 8 and voice at 11. After years of classical and conservatory training in both instruments, with a resulting specialization in early and new music, she parted ways again in 2003 to begin new negotiations with sound in order to discover a more individually honest aesthetic.
Since then, using the cello, voice and occasional analog electronics, Chen's work delves deeply into her own version of narrative and non-linear storytelling. A large component of her music is improvised and her approach to this is extremely personal and visceral. Her playing explores the combination and layering of the homemade analog synthesizer, preparations and traditional and extended techniques in both the voice and cello. She works to join these elements into a singular ecstatic personal language.
Over the past decade plus, her predominant focus has been her solo work with the cello, voice and electronics, but she has more recently begun to shift back towards the exploration of the voice as a primary instrument.
Recent projects, aside from performing solo, include her long running voices duo with London based artist, Phil Minton, and duos with NYC abstract turntablist, Maria Chavez, French guitarist, Jean-Yves Evrard, BEAM SPLITTER, with Norwegian trombonist, Henrik Munkeby Nørstebø, the "romantic noise duo" AFTERBURNER with Doron Sadja (electronics/light projections), with modular synth player, Richard Scott, with American percussionist, Flandrew Fleisenberg and a collaborative project with German conceptual artist, John Bock.
She is also a member of Maja Osojnik's "All.The.Terms.We.Are" (Vienna, AT) and Klas Nevrin's "Revoid Ensemble" (Stockholm, SE). And over the past several years she has been working regularly with the Ukho Agency in Kiev Ukraine. They recently produced MEDEA, a butoh opera, conceptualized by Valentin Tszin and Flavia Ghisalberti (butoh), Chen and Henrik Munkeby Nørstebø. Other musicians included Phil Minton, Michael Vorfeld and Thomas Rohrer.
Her most recent album releases (2013) include, a quartet LP with Nate Wooley, C. Spencer Yeh and Todd Carter on Monotype (Warsaw), and a duo record with Phil Minton on Subrosa (Brussels).
Chen has performed across Europe, Russia, Ukraine, Turkey, Australia, New Zealand, China, Japan, Taiwan, Brazil, Argentina, Canada and the USA.
Some festival appearances include: Festival Beyond Innocence (Osaka, JP), Maerzmusik (Berlin, DE), Klangspuren Festival (Schwaz, AT), NUMA Circuit (Tenerife, ES), Sound of Stockholm (Stockholm, SE), Kongsberg Jazz Festival (Kongsberg, NO), Jazz Saalfelden (Saalfelden, AT), Plateaux Festival (Torun, PL), Color Out of Space (Brighton, UK), Wels Music Unlimited (Wels, AT), 2PI Festival (Hangzhou, CN), Jazz a Luz (Luz-Saint-Saveur, FR), Festival Muzzix (Lille, FR), La Voix est Libre (Toulouse/Paris, FR), Total Meeting (Tours, FR), NowNow Festival (Sydney, AU), Uncool Festival (Poschiavo, CH) and the Next Festival (Bratislava, SK).
And venues such as: Covent Garden (London, UK), Radialsystem (Berlin, DE), Zacheta National Gallery (Warsaw, PL), Museé du quai Branly (Paris, FR), Radio France (Paris, FR), Theatre Bouffes du Nord (Paris, FR), Auditorio de Tenerife (Tenerife, ES), Teatro Colon (Buenos Aires, AR), Bimhuis, (Amsterdam, NL), Rote Fabrik (Zurich, CH), Teatro Fondamenta Nuove (Venice, IT), DOM (Moscow, RU), Anton Kern Gallery (NYC, US) and Robert Wilson's Watermill Center (Water Mill, NY, US).
In 2011, in addition to her performances, she was awarded the prestigious Mary Sawyers Baker Prize, an award that was established to support individual artists living, and working in Maryland. Since 2011, she relocated to Berlin, Germany from Baltimore, MD USA and continues to maintain an active international touring schedule.
David Harrington of the Kronos Quartet has described her work as "fascinating and gripping" and "possessing something extremely vital and vivid...."