Cancelled: Quatuor BRAC // Beam Splitter + Parkins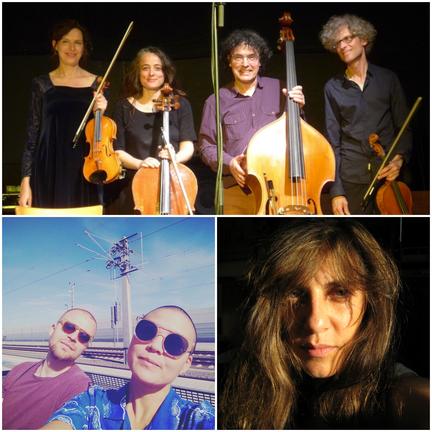 Due to the public health and security situation, this event is cancelled.
If possible, we will postpone it to a later date.
We will publish updated information on our website as soon as we know more. Until further notice, this applies to all upcoming events at ausland.
If you have any questions, please use our contact form:
https://ausland.berlin/contact
ausland, March 14th 2020
Keep up solidarity - for example, by signing this petition:
https://www.openpetition.de/petition/online/hilfen-fuer-freiberufler-und-kuenstler-waehrend-des-corona-shutdowns-2
Quatuor BRAC // BEAM SPLITTER + Andrea Parkins
+++ English below +++
Quatuor BRAC
Tiziana Bertoncini – Violine
Soizic Lebrat – Cello
Benoît Cancoin – Bass
Vincent Royer – Viola
Im Quatuor BRAC haben sich vier virtuose Streichinstrumentalistinnen und -instrumentalisten zusammengefunden: die Italienerin Tiziana Bertoncini, Soizic Lebrat (die Martine Altenburger ersetzt hat, das "A" in BRAC's Originalbesetzung), Vincent Royer und Benoît Cancoin aus Frankreich. Improvisation ist zugleich Kernkompetenz und Wunschrepertoire dieses Streichquartetts. Das englische 'string quartet' würde indes viel besser zur Spielweise des Quatuor BRAC passen, denn die Instrumente werden gezupft, gestrichen, gerieben, geklopft – und neben den Klangkörpern kommt immer auch mal wieder die Stimme zum Einsatz.
Quatuor BRAC liebt die Konfrontation, die Herausforderung des Unvorhergesehenen, die Erforschung der Akustik des Raumes und der Auftrittssituation und die Interaktion mit der Umgebung. Die Bereitschaft zum Risiko scheint hier wohl auch deswegen so groß zu sein, weil die Selbstsicherheit, miteinander in jedem beliebigen Augenblick einen neuen musikalischen Weg zu finden, dem Zusammenspiel des Quartetts eine wundervoll kratzbürstige Klarheit gibt.

BEAM SPLITTER + Andrea Parkins
Audrey Chen – Stimme, Elektronik
Henrik Munkeby Nørstebø – Posaune, Elektronik
Andrea Parkins – Akkordeon, Elektronik
BEAM SPLITTER: Audrey Chen und Henrik Munkeby Nørstebø
– ein Duo für Stimme, Posaune und gelegentlich analoge Elektronik
Indem es die reinen Klänge akustischer und stark verstärkter Klangquellen nutzt, verbindet das Duo zwei Einzelstimmen zu einem eigenständigen Dialog, der einen Blick hinter die Grenzen körperlicher Elemente erweiterter Technik und des Klanges wirft. Intimität und Konflikt in der Verflechtung der beiden Personen werden deutlich in Momenten, in denen sie sich nahtlos aneinander anschließen, und im Nächsten mit dem Gefühl eines unwiderruflichen Bruchs zurückbleiben. Sie bewegen sich zwischen diesen Extremen mit einer Art improvisierter Anmut, die das Bemühen um ein gemeinsames Ziel offenbart. Es ist eine ehrliche Metapher für eine sich entwickelnde menschliche Beziehung, die selbst in den heitersten Momenten roh und völlig entblößt sein kann.

ANDREA PARKINS

Andrea Parkins ist eine Klangkünstlerin, Komponistin und elektroakustische Performerin, die bekannt ist für ihre bahnbrechende Methode/Ansatz eines elektronisch bearbeiteten Akkordeons sowie für die Erforschung der Ausführungsformen und Möglichkeiten mit ihren selbst entworfenen virtuellen Klangverarbeitungsinstrumenten.
Beschrieben als "sound-ist" mit proteischem (wandelbarem) Talent von Kritiker Steve Smith, erzeugen Parkins' Laptop-Elektronik, verstärkt Objekte und ein Fender-gedämpftes Akkordeon Klangfelder mit üppigen Obertönen und skulpturalen elektronisches Feedback, unterbrochen durch Momente der Lücke und des Bruchs.
Die Arbeiten von Parkins' umfassen Multi-Diffusions-Audioinstallationen, elektronische Musikstücke, elektroakustische Solo- und Ensemblekompositionen sowie Sound für zeitgenössischen Tanz, Experimentalfilm und intermediale Performance. Ihre Projekte wurden international präsentiert an Veranstaltungsorten und Festivals wie dem Whitney Museum of American Art, Issue Project Room, The Kitchen, Experimental Intermedia, Ausland, Kunsthalle Basel, NEXT (Bratislava), Cyberfest (St. Petersberg) und viele andere.
Zu den jüngsten Projekten Parkins' gehören ihre groß angelegten, verstärkten Performance-Zeichenserien, entwickelt 2017, als sie als Residenzkünstlerin in die Rauschenberg Residency in Captiva, Florida eingeladen war; und ihre ortsbezogene Performance/Installation, Two Rooms, Variation 1, für 40 Lautsprecher und Solo-Performer, die 2016 beim Akousma-Festival in Montreal uraufgeführt wurde.
Gefördert von der Senatsverwaltung für Kultur und Europa

Medienpartner: Digital in Berlin
Tür öffnet: 20:30 Uhr
Konzertbeginn: 21:00 Uhr
+++ English +++
Quatuor BRAC
Tiziana Bertoncini – violin
Soizic Lebrat – cello
Benoît Cancoin – double bass
Vincent Royer – viola
In the Quatuor BRAC, four virtuoso string instrumentalists have come together: the Italian Tiziana Bertoncini, Soizic Lebrat (who replaced Martine Altenburger, the "A" in BRAC's original line-up), Vincent Royer and Benoît Cancoin from France. Improvisation is both the core competence and the preferred repertoire of this string quartet. The English description 'string quartet' fits much better to the playing style of the Quatuor BRAC, as the instruments are plucked, stroked, rubbed, knocked – and the voice is used again and again alongside the instruments.

Quatuor BRAC loves the confrontation with and the challenge of the unforeseen, exploring spatial acoustics, the performance situation and the interaction with the environment. The willingness to take such risks seems to stem from their shared self-confidence to forge new musical pathways in any given moment, giving the quartet a wonderfully scrappy brand of clarity.
BEAM SPLITTER + Andrea Parkins
Audrey Chen – voice, electronics
Henrik Munkeby Nørstebø – trombone, electronics
Andrea Parkins – accordeon, electronics
BEAM SPLITTER:
Audrey Chen
and
Henrik Munkeby Nørstebø

– is a duo for amplified voice, trombone and occasional analog electronics.
Utilizing the pure sounds of acoustic and closely amplified sound sources, the duo joins together two individual voices into a distinct dialog that delves beyond the borders of the corporeal elements of extended technique and sound. There is an intimacy and conflict that becomes evident as the two personas intertwine, in moments joining together seamlessly and in the next, being left with the feeling of irrevocable fracture. The two manage between these extremes with a kind of improvised grace that reveals an effort towards a common goal. It is an honest metaphor for a human relationship in process that even in the most serene moments can leave one raw and entirely exposed.
ANDREA PARKINS
Andrea Parkins is a sound artist, composer, and electroacoustic performer known for her pioneering approach on her electronically processed accordion and investigation of embodiment and chance with her self-designed virtual sound-processing instruments. Described as a "sound-ist," of "protean," talent by critic Steve Smith, Parkins' laptop electronics, amplified objects, and Fender-amped accordion create sonic fields of lush harmonics and sculpted electronic feedback, punctuated by moments of gap and rift.
Parkins'
works encompass multi-diffusion audio installations; electronic music pieces;
electroacoustic solo and ensemble compositions; and sound for contemporary dance,
experimental film and intermedia performance.
Parkins
' recent projects include her large-scale amplified performance drawing series,
developed in 2017 when she was an invited resident artist at the Rauschenberg Residency in Captiva, Florida; and her site-based performance/installation, Two Rooms, Variation 1, for 40 loudspeakers and Solo Performer which premiered in 2016 at Akousma Festival in Montreal.
Supported by Senatsverwaltung für Kultur und Europa


Presented by Digital in Berlin
Doors: 8.30 pm
Concert starts: 9.00 pm