CC N.1 Corruptive Climate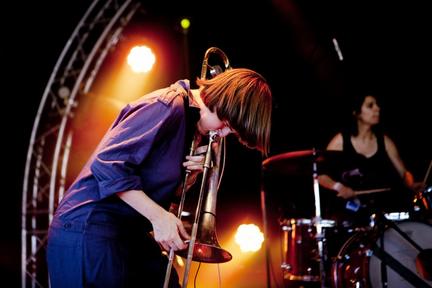 Concerts start on time 7:30! Scroll down for audio streaming!
PLEASE NOTE:
Tickets for the concerts of Les Femmes Savantes, Selvhenter and The Sacred Travellers are limited. To be guarenteed a place please order an online ticket.
Spunk (Norway)
Kristin Andersen - trumpet, recorder
Maja Solveig Kjelstrup Ratkje – voice, various, electronics
Hild Sofie Tafjord – french horn, electronics
+ especially for this concert:
Okkyung Lee - cello

Spunk is a quartet using improvisation as the basis for their music. "Spunk" is a word invented by author Astrid Lindgren's fictitious character Pippi Longstocking. Pippi's pleasure in invention gave the quartet Spunk its name in 1995. Spunk makes free improvised music from a variety of sources, with the expression of each of the group's four members given equal weight within the ensemble.
"...Listening to Spunk, one is flushed down the plughole of time into a dark dank drain to be eventually washed-up on some new musical shore. The contribution and combination of Kristin Andersen, Lene Grenager, Maja Solveig Kjelstrup Ratkje, and Hild Sofie Tafjord is in no way contrived. Spunk are musicians who are part of a zeitgeist who, in their very essence, are pluralistic, in and out of certain traditions, and belong only where they have arrived. Some strange and strong cultural phenomenon is abound and Spunk are part of it." (John Richards)
Selvhenter (Denmark)
Sonja LaBianca – saxophone
Maria Bertel – trombone
Maria Diekmann – violin
Jaleh Negari – drums
Anja Jacobsen - drums
The Danish band Selvhenter is quickly becoming one of the most exciting new experimental rock bands in Europe. Their unique sound combines the energy of rock with free improvisation and noise. Selvhenter gets inspiration from rock and improvised music but also from percussion music from Africa and Southeast Asia, and modern minimalist composition. In their music, the two drummers create strong polyrhythmic patterns while the horns and violin develop simple patterns of melody. In addition, both saxophone, trombone and violin often use effect pedals to distort and manipulate their sounds. The result is beautiful, aggressive and good for dancing. Selvhenter's live concerts are always curious, focused and full of energy. In 2010, the members of Selvhenter founded the art collective and record label eget værelse (a room of one's own) – a platform for the projects they create together or individually.

Les Femmes Savantes (Germany, Sweden, Argentina)
Sabine Ercklentz – composition, trumpet, electronics
Hanna Hartman – composition, objects, electronics
Andrea Neumann – composition, inside piano, mixer
Ana Maria Rodriguez – composition, electronics
Ute Wassermann – composition, voice, birdcall, whistles, resonating objects
The new program by Les Femmes Savantes takes the form of a headphone concert. In contrast to the usual concert situation there is no collective listening space. Instead the listening space is as if located in the head, between the ears. Sound in this space is characterised by being extremely close and direct. In the performance works by the five artists, the microstructures of very quiet, noise-like sonic phenomena are magnified and explored as by a microscope. The sound-sources might be amplified objects as well as instruments. The goal is to bring synthetic listening spaces into being.

Disc Jockey eiskalt
Sissi FM live from Sophiensæle
7 - 12pm live stream on reboot.fm
Listen here
This stream defaults to the reboot fm radio stream if there is no live broadcast. more info here
8-12pm on UKW 88.4 MHz and 90.7 Mhz in Potsdam
Live interviews with the participating artists on music, methods, and motifs; on dangerous stages and daring costumes, on composition and improvisation; on the musicality of collectives and on collective structures in music; on band playing and solo works; on the longevity of self-organized groups; on macho fights and Hühnerkämpfe; on collective love, pains, and asses and on the monarchy of sounds. Live streams of all concerts and perfomances, directly to your kitchen: music, music, music. After and inbetween the concerts: breathtaking impressions, voices of the audiences, insights, outlooks, and summaries