Compass Festival Day 3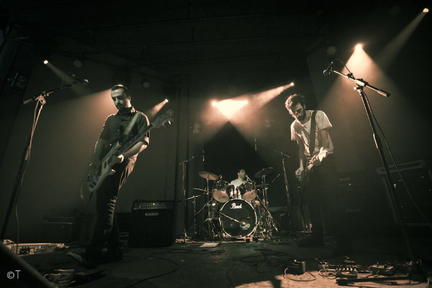 A trio - Sharif Sehnaoui (guitar), Mazen Kerbaj (trumpet), Raed Yassin (bass)
JD Zazie (turntables), Tony Elieh (e-bass)
Collaboration:
Scrambled Eggs - Charbel Haber, Tony Elieh, Tony Buck
Transmit - Tony Buck, Magda Mayas, Brendan Dougherty, James Welburn
A trio
"A" Trio is probably the oldest Lebanese improv group. Formed in 2002 for a concert at "Irtijal'02", the group went on to record the first free jazz CD to be produced in the Arab world ("A", La Cédéthèque, 2003). Their music later moved away from its jazz roots towards a more textural approach that strongly relied on prepared & extended techniques. "A" Trio's sound is distinguished by sharp subversions of the sonic potentialities commonly attributed to the members' instruments (the trumpet, the acoustic guitar, and the double-bass). A misleading sound creates a strange energy: "A" Trio sounds like an electronic project whereas it is a purely acoustic one.
The improvisations are elaborate and playful at the same time. A rumble of strings is submerged in a layer of vacuum and a thick wave of oscillations slides between the organic and the industrial. The sounds of a trumpet seep out only to sink back into the inaudible. Metallic vibrations, clunks, and chimes scatter across a dense sonic terrain that breaks up into zones of uneasy silence and stretches of acute cacophony. "A" Trio attempts to construct a temporal disjunction, a split within the present into a temporality marked by uneven durations and incompatible energies. Setting loose a series of melancholic tones, the music solicits an introspective mode of listening. In a state of constant flux, Yassin, Kerbaj, and Sehnaoui fabricate experiences with the sonic and the musical that are both immersive and elusive, inviting and alienating.
After a decade of working together as a trio and in various other settings and frameworks, Kerbaj, Sehnaoui & Yassin have finally reached a very characteristic sound that has prompted one Swedish journalist to say: "This is textural swing!" "A" Trio's live performances also rely on a strong visual component.
In 2012, and for their 10th anniversary, the "A" Trio released its second album on their own label: Al Maslakh records.
Scrambled Eggs
Formed in 1998, Scrambled Eggs are one of the most prolific and talented rock groups in Lebanon today. The band's present line-up features Charbel Haber (vocals and guitar), Tony Elieh (bass) and Malek Rizkallah (drums). Scrambled Eggs released 3 full-length albums between 2002 and 2004, followed by a 6-track EP in 2006 (recorded in the immediate aftermath of Israel's war on Lebanon), and a single in 2008. They also recorded two soundtracks for Lebanese filmmakers Joanna Hadjithomas and Khalil Joreige, 'A Perfect Day' (2005) and 'Je Veux Voir' (2008), featuring French actress Catherine Deneuve.
In 2007 the group was the subject of an article in Time magazine, concerning Lebanon's vibrant music scene that thrives despite its political turmoil.
Over the course of 2009, Scrambled Eggs recorded a series of collaborations with various Lebanese and foreign musicians, hailing from the fields of experimentation and noise. These sessions were released in 2010 by Lebanese experimental rock label 'Johnny Kafta's Kids Menu', in the form of two separate, "concept" albums.
The band's latest record, a collection of B-sides and unreleased demos entitled 'Peace is Overrated & War Misunderstood', saw the day in December 2010 on Ziad Nawfal's 'Ruptured' label.
Transmit
A band revolving around the writing, drumming and guitar of Tony Buck, with core line-up of Magda Mayas on organ and piano, James Welburn on bass, and Brendan Doughety playing drums.
The focus here is very much on rhythm and momentum and the layering of parts and sounds. The instrumental line-up of TRANSMIT features driving guitar, throbbing bass, chiming chords, swelling organ and propulsive drumming, combining to bring you a big, slowly building trance machine.