Konzert Minimal plays Wolff, Lingens and Ablinger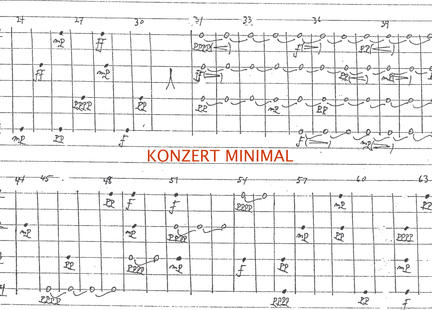 Peter Ablinger: Weiss / Weisslich 20 for one or more cymbals
Hannes Lingens: New composition for Percussion Trio (cymbal, snare drum, bass drum)
Christian Wolff: Berlin Exercises (Instrumental Selections)
Johnny Chang, Lucio Capece, Koen Nutters
Hannes Lingens, Morten J Olsen, Alexandre Babel
____________________
Konzert Minimal is an ensemble that focuses on the music of the Wandelweiser collective and composers who share similar aesthetics and interests in sound and silence as well as going beyond the confinements of the traditional hierarchy in the organisation of both.
It is made up of committed Berlin-based musicians from various fields of music; modern classical music, experimental and improvised music, sound art, conceptual performance and composition, who have found in Konzert Minimal a common framework for furthering individual and collective experimentation.
Since late 2010, Konzert Minimal has curated a monthly series of concerts at the Neukoellner cafe 'O Tannenbaum' presenting an ongoing series focusing on the music of Antoine Beuger and Michael Pisaro, to great critical acclaim from its musical peers and a very positive response from the audience.
In these two years Konzert Minimal has also played in several other more conventional venues in Berlin (such as KuLe Theater, ausland and Complice) and has collaborated with the composers Antoine Beuger, Michael Pisaro and Manfred Werder on several occasions. The most notable of which was in Amsterdam at the Sonic Acts Festival in February 2012.
____________________
WEBSITE
www.Konzert-Minimal-Berlin.tk
AUDIO
http://soundcloud.com/johnnychchang/sets/konzert-minimal
VISUALS
(Youtube) http://www.youtube.com/playlist?list=PL0751D481A7D1FD4E
(Vimeo) https://vimeo.com/album/1808331