Songs We Taught Your Mother #4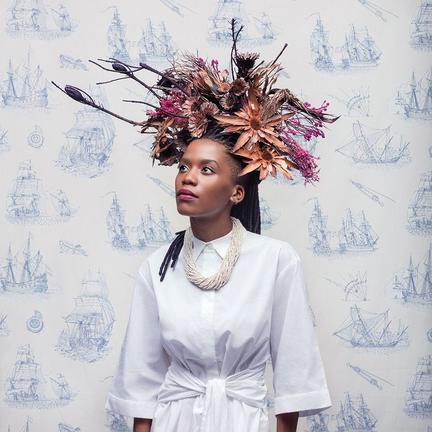 Songs We Taught Your Mother - Dialogues with Recordings From The Music´s Past invites artists to conceptualize a performative work in conversation with the musical styles and approaches of female and/or trans jazz- and blues composers from 1920 until today.
Tonight South African musician Nonku Phiri presents "alterations in anyhow" - a dialogue with Beverly Glenn-Copeland
Based on the timelessness of Copeland's work, the "alterations in anyhow" aims to be both a modern and personal interpretation of Copeland's storytelling in our mind's eye. Inspired by the depth and passion that is evident in the earlier recordings and the wisdom and "naivety" portrayed in his later works, Nonku Phiri and Dion Monti come into conversation with a musical approach that is continually developing and changing over time.
Shanti Suki Osman uses sound and song in dialogue with Usha Uthup: the unlikely, self-taught, sari clad Jazz singer from Mumbai, who was criticised for 'only' ever playing to the audience and responsible for transforming India's jazz scene of the late 1969s from male dominated dens to family shows.
Emma Tricard, Niklas Blomberg & the Mysterious Third Person in dialogue with the musical style of the New Orleans jazz pianist Sweet Emma Barrett.
"When I hear Sweet Emma Barret's groovy honkytonk klonk slapping jazzpiano hands tell her straightforward stories, and when I look into her big pure eyes, my heart starts to pump life. l feel this beautiful soul was a master of transforming pain into hope with an admirable attitude. She is actually quite punky. Makes me realise that the world has been full of all these extremely wonderful good willing people, and l get curious to see how all that translates into our world with ginger-synthesizers, electronic possibilities and life today."
SissiFM broadcasts shows about the concert series on reboot.fm.
---
some background info:
Beverly Glenn Copeland, born into a family all of whom were very musical, essentially studied the classical piano repertoire from 'cradlehood' while listening to his father playing the piano four to five hours a day. He went on to study classical music at McGill, and then after a few years of concertizing - singing the European song repertoire - he suddenly felt called to write music that would weave all the different musical cultures he had come to love.
During the course of his lifetime thus far, Glenn has written a large body of music for adults, music for film, three musicals for children, recorded six albums of his songs, and been the recipient of composition awards from the Canada Council, Ontario Arts Council, and Arts NB. His songs have been performed by various Canadian artists including Rita MacNeil and Jackie Richardson, as well as by the Toronto Pops Orchestra under the direction of David Warrack.
Concurrent with writing compositions for adults, Glenn wrote music for children's television programs in England, Canada, and the U.S. He also had the wonderful opportunity to spend twenty-five years entertaining kids as a regular actor on the Mr. Dress-Up Show.
Because of the success of his recent re-release, Keyboard Fantasies, Glenn has been called back to the performing stage.
watch a lecture from Beverly-Glenn Copeland here.
https://daily.bandcamp.com/2018/05/14/beverly-glenn-copeland-interview/
Sweet Emma Barrett
"Sweet Emma" Barrett (March 25, 1897, New Orleans, Louisiana – January 28, 1983) was an American, self-taught jazz pianist and singer who worked with the Original Tuxedo Orchestra between 1923 and 1936,first under Papa Celestin, then William Ridgely. She also worked with Armand Piron, John Robichaux, Sidney Desvigne, and the Preservation Hall Jazz Band.
Sweet Emma Barrett, who was at her most powerful in the early '60s, became a symbolic figure with the Preservation Hall Jazz Band, playing in a joyous but obviously weakened and past-her-prime style on world tours. Sweet Emma, who gained the nickname of "the bell gal" because she wore red garters with bells that made sounds while she played, was purely a local figure until 1961 when she made her finest recording, a Riverside set with the future members of the Preservation Hall Jazz Band. Ironically, as Barrett became better known, her playing and singing swiftly declined due to her age, and after a 1967 stroke, she continued to perform despite having a largely paralyzed left hand.
Usha Uthup
Usha Uthup, who won a Padma Shree this year, hasn't stepped out of the spotlight since she first started belting out Broadway tunes and pop standards in 1969 in venues similar to this one, depicted in the 1972 film Bombay to Goa. She's performed across the length of the country, recorded more than two dozen albums and has been featured on several popular Bollywood tracks. More importantly, she's single-handedly created the paint-by-numbers kit that anyone hoping to make a living out of performing pop in India must follow: sing in an Indian language (or several); tour incessantly both in small-town India and to diasporic outposts in New Jersey, Hong Kong and Nigeria; cherry-pick film assignments; and never, ever stop enjoying yourself on stage. "I'm a people's person," Uthup told me. "I've never been bothered by people saying I play to the gallery – because I do. Without the gallery I'm nothing."
http://www.tajmahalfoxtrot.com/?p=507
https://www.discogs.com/Usha-Uthup-Usha-In-Nairobi/release/3962333