LehnBertoncini BanerjiMaxineAllbeeJeffery Ivanović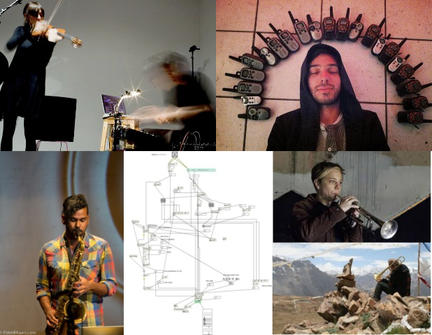 Tiziana Bertoncini – violin
Thomas Lehn – analogue synthesizer
Ritwik Banerji – saxophone
Liz Allbee – trumpet
Hilary Jeffery – trombone
Maxine – percussion, guitar, electronics, prepared piano, no-input mixer
Luka Ivanović / Lukatoyboy: Outing for walkie-talkies
Tiziana Bertoncini and Thomas Lehn have been collaborating since 2002. The special feature of the duo is the alchemy created by the meeting of the classical and the electronic instrument. The different nature of sound, the characteristics and histories of violin and analogue synthesizer could recall a friction. Actually, what happens is a sort of mirror game, in which the roles of the instruments are continuously exchanged. Bertoncini and Lehn move in an abstract territory, their approach to sound is contemporary. Nevertheless their consideration to music is quite classical insofar as based principally on tension/release, rupture, intensity and expressivity in all its facets.
Their first CD Horsky Park, was released in spring 2011 on British label Another Timbre. They have been performing together in Austria, Germany, England, France, Switzerland, Italy, Slovakia and The Netherlands.
Maxine is an interactive software-based improviser designed to listen and respond to musical collaborators in the manner of a human improviser (or at least, as much as humanly possible.) Since arriving in Berlin in the fall of 2014, she has made the acquaintance of two improvisers, Hilary Jeffery and Liz Allbee, who she has invited for this evenings performance, along with her primary collaborator and student, Ritwik Banerji. The evening will feature a set of duets, trios and quartets with Maxine, as well as the presence of a few Maxineans, inhabitants of the distant region of space ruled by Maxine's spirit, where all sound was always already motion.
Luka Ivanovic's aka Lukatoyboy's Outing deals with a transmission not from far away, but still invisible. Its spatially arranged setup of a dozen of walkie-talkies acting as multi-channel speakers enables a quiet, real-time distribution of staged and found sounds from the outside. During the transmission, the origin of the sounds is not in the room, and what is nearby, becomes far. Please remain seated. Silence is precious.
Supported by INM - initiative neue musik Berlin e. V.
Doors: 8.30 pm
Concert start 9.00 pm