Quatuor BRAC/Lehn + Feichtmair/Harnik/Polaschegg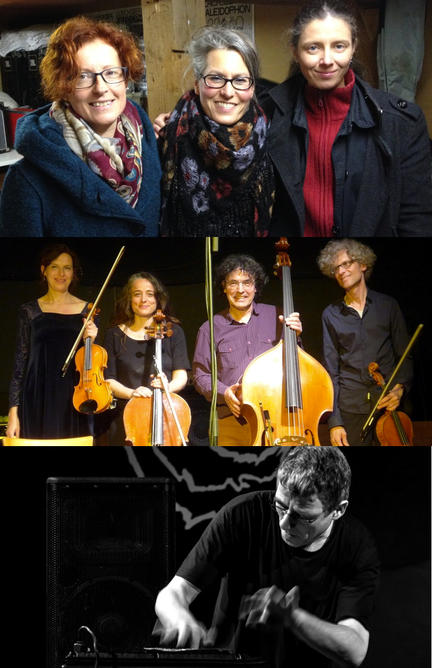 Feichtmair/Harnik/Polaschegg
Tanja Feichtmair – Saxofon
Elisabeth Harnik – Klavier
Nina Polaschegg – Kontrabass
Quatuor BRAC + Thomas Lehn
Tiziana Bertoncini – Violine
Soizic Lebrat – Cello
Benoît Cancoin – Bass
Vincent Royer – Viola
Thomas Lehn – Analoger Synthesizer
+++English below+++
Energische Intensität, helle Expressivität und abstrakte Entschleunigung: Das verspricht das Zusammentreffen dieser drei schillernden Musikerpersönlichkeiten: 2+2+2=3: Energie + Expressivität | Abstraktion + Konkretion | Ruhe + Impulsivität = fließende Klanggewebe, abstrakte Lyrik und treibende Pulse im Trio von Tanja Feichtmair, Elisabeth Harnik und Nina Polaschegg.
Die Altsaxofonistin Tanja Feichtmair hat sich bereits in mehreren österreichischen sowie internationalen Formationen (Lull, Müjazz, Feichtmair/Turner Duo, Trio Now, Trio mit Gino Robair und Damon Smith, Quartett mit Frank Gratkowksi, Peter Herbert und Christian Lillinger ...) einen Namen gemacht. Für mehrere Jahre galt ihr Hauptinteresse der Solotätigkeit, die unter anderem das Album Kaman Wasi hervorbrachte, aufgrund dessen sie auch ein Musik-Kunstförderungsstipendium erhielt. Feichtmairs Spiel zeichnet sich durch ihren freien Umgang mit Musik abseits gängiger Konventionen aus und reflektiert sowohl die Entwicklungen der freien Jazzspielhaltung amerikanischer Prägung als auch die reduzierte Klangfarbenästhetik europäischer Herkunft. Die Pianistin Elisabeth Harnik ist solo und in Ensembles mit exponierten Vertreter*innen des zeitgenössischen Jazz weltweit zu hören. Eine langjährige musikalische Freundschaft verbindet sie u. a. mit der Chicagoer Free-Szene und sie ist etwa gefragte Spielpartnerin von Ken Vandermark, Steve Swell, Andrea Centazzo oder Joëlle Léandre. Harnik begann ihre künstlerische Laufbahn sowohl als Interpretin ihrer Kompositionen als auch als Pianistin in verschiedensten Bereichen der improvisierten Musik und fand ihre bevorzugte Klangdomäne schließlich in der freien Improvisation. Schließlich die Kontrabassistin Nina Polaschegg, die Barockmusik ebenso spielte wie sie sich freier Improvisation widmet, und die als Musikwissenschaftlerin und Musikpublizistin im Bereich zeitgenössischer komponierter, improvisierter und elektronischer Musik sowie im zeitgenössischen Jazz arbeitet. Polaschegg studierte Musikwissenschaften, Soziologie und Philosophie in Giessen und Hamburg wo sie auch promovierte. Sie lebt in Wien, arbeitet für diverse öffentlich-rechtliche Rundfunkanstalten in Deutschland, Österreich und der Schweiz und hatte Lehraufträge an den Musikhochschulen bzw. Universitäten Hamburg und Klagenfurt.
https://www.facebook.com/tanja.feichtmair
http://elisabeth-harnik.at
http://oe1.orf.at/team/ninapolaschegg
Live @ Ulrichsberger Kaleidophon: https://youtu.be/JQi9rM-MwM0
Im Quatuor BRAC haben sich vier virtuose Streichinstrumentalistinnen und -instrumentalisten zusammengefunden: die Italienerin Tiziana Bertoncini sowie Soizic Lebrat (die Martine Altenburger ersetzt hat, das "A" in BRACs Originalbesetzung), Vincent Royer und Benoît Cancoin aus Frankreich. Improvisation ist zugleich Kernkompetenz und Wunschrepertoire dieses Streichquartetts. Das englische string quartet würde indes viel besser zur Spielweise des Quatuor BRAC passen, denn die Instrumente werden gezupft, gestrichen, gerieben, geklopft – und neben den Klangkörpern kommt immer auch mal wieder die Stimme zum Einsatz. Quatuor BRAC liebt die Konfrontation, die Herausforderung des Unvorhergesehenen, die Erforschung der Akustik des Raumes und der Auftrittssituation und die Interaktion mit der Umgebung. Die Bereitschaft zum Risiko scheint hier wohl auch deswegen so groß zu sein, weil die Selbstsicherheit, miteinander in jedem beliebigen Augenblick einen neuen musikalischen Weg zu finden, dem Zusammenspiel des Quartetts eine wundervoll kratzbürstige Klarheit gibt.
Ergänzt werden sie in ihrem zweiten Set von dem Synthesizer-Virtuosen Thomas Lehn, der sich seit etwa 1990 auf live-elektronische Musik konzentriert und dessen primäres Instrument seit 1994 der modulare Analogsynthesizer Synthi A in Kombination mit dem DK-2-Keyboard der britischen Firma EMS ist.
Gefördert von der Berliner Senatsverwaltung für Kultur und Europa
Medienpartner: Digital in Berlin
Einlass: 20:30 Uhr


Konzertbeginn: 21:00 Uhr

Tickets (nur Abendkasse): 9 €
+++ English +++
Feichtmair/Harnik/Polaschegg
Tanja Feichtmair – saxophone
Elisabeth Harnik – piano
Nina Polaschegg – double bass
Quatuor BRAC + Thomas Lehn
Tiziana Bertoncini – violin
Soizic Lebrat – cello
Benoît Cancoin – double bass
Vincent Royer – viola
Thomas Lehn – analogue synthesizer
Energetic intensity, bright expressiveness and abstract deceleration: This is what the coming together of these three dazzling musical personalities promises: 2+2+2=3: energy + expressiveness | abstraction + concretion | calmness + impulsiveness = flowing sound textures, abstract lyrics and driving pulses in the trio of Tanja Feichtmair, Elisabeth Harnik and Nina Polaschegg.
Alto saxophonist Tanja Feichtmair has already made a name for herself in several Austrian and international formations (Lull, Müjazz, Feichtmair/Turner Duo, Trio Now, trio with Gino Robair and Damon Smith, quartet with Frank Gratkowksi, Peter Herbert and Christian Lillinger ...). For several years, her main interest was solo work, which among other things produced the album Kaman Wasi, for which she also received a music arts grant. Feichtmair's playing is characterized by her free handling of music, away from common conventions, and reflects both the development of the American style of free jazz playing and the reduced timbral aesthetics of European origin. The pianist Elisabeth Harnik can be heard solo and in ensembles with prominent representatives of contemporary jazz worldwide. A long-standing musical friendship connects them e. g. with the Chicago free scene and she is a sought-after playing partner of Ken Vandermark, Steve Swell, Andrea Centazzo and Joëlle Léandre. Harnik began her artistic career both as an interpreter of her compositions and as a pianist in various areas of improvised music and finally found her preferred sound domain in free improvisation. Finally, the double bass player Nina Polaschegg, who plays baroque music as well as free improvisation, and who works as a musicologist and music journalist in the field of contemporary composed, improvised and electronic music as well as in contemporary jazz. Polaschegg studied musicology, sociology and philosophy in Giessen and Hamburg, where she also received her doctorate. She lives in Vienna, works for various public broadcasters in Germany, Austria and Switzerland and has taught at the music academies and universities in Hamburg and Klagenfurt.
In the Quatuor BRAC, four virtuoso string instrumentalists have come together: the Italian Tiziana Bertoncini, Soizic Lebrat (who replaced Martine Altenburger, the "A" in BRAC's original line-up), Vincent Royer and Benoît Cancoin from France. Improvisation is both the core competence and the preferred repertoire of this string quartet. The English description 'string quartet' fits much better to the playing style of the Quatuor BRAC, as the instruments are plucked, stroked, rubbed, knocked – and the voice is used again and again alongside the instruments. Quatuor BRAC loves the confrontation with and the challenge of the unforeseen, exploring spatial acoustics, the performance situation and the interaction with the environment. The willingness to take such risks seems to stem from their shared self-confidence to forge new musical pathways in any given moment, giving the quartet a wonderfully scrappy brand of clarity.
They are complemented in their second set by the synthesizer virtuoso Thomas Lehn, who has been concentrating on live electronic music since around 1990 and whose primary instrument since 1994 has been the modular analog synthesizer Synthi A in combination with the DK-2 keyboard from the British company EMS.
Supported by the Berliner Senatsverwaltung für Kultur und Europa

Presented by Digital in Berlin
doors: 8.30 pm
concert starts: 9.00 pm
Tickets (box office only): 9 €